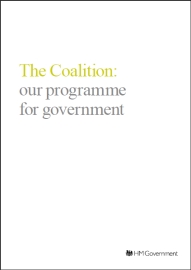 In a posting on his personal website Andrew Dakers looks at the Coalition Agreement from a Corporate Responsibility perspective.  Whilst it has much to be commended, he concludes that unfortunately for a Coalition that wants to roll back the state and repeal legislation there is no reference to Responsibility Deals (voluntary agreements) in the Coalition Agreement. He says, "We can only hope the Coalition Agreement commitment to 'investigate further ways of improving corporate accountability and transparency' (pg 10) provides the window of opportunity for the Department for Business, Innovation and Skills (BIS) to start thinking more creatively in this area under the leadership of Secretary of State Vince Cable MP."
He particularly highlights the Conservative-commissioned Public health Responsibility Deal report 'We're all in this together' (2009) that acknowledged business concerns about competition law constraints: "One of the problems of encouraging co-operation among businesses to achieve social goals is the approach taken by the competition authorities to any evidence or suggestion of cartels or collusion. What business requires is a clear steer from Government that co-operation to address health issues can take place in a carefully regulated forum. Recommendation 6.4: Government attention must be given to competition issues that arise from actual and potential industry voluntary agreements. Where businesses can work together to deliver health improvements, Government should find a way of providing a safe haven for companies to discuss solutions that would otherwise risk contravening competition law." (pg 19)  This approach already exists and operates successfully in the Australian competition law framework.
Andrew said at the Liberal Democrats conference in Autumn 2009: "Sure sometimes there is going to be collusive behaviour that drives excessive profiteering and is against the interests of the consumer. This abuse of market power must be cracked down on hard. However there are also great business leaders and companies – even in the finance sector – who would encourage their peers to take more voluntary action on environmental, social and corporate governance issues if they had the tools in competition law. This is particularly necessary when government is one step behind public opinion and scientific evidence – or when government would be over-reaching itself by producing yet more legislation and enforcement bureaucracy. Or when achieving the vast changes in business practices required needs sector ownership of the problem…. Taking this balanced view, that doesn't tarnish all business with the same brush, is so necessary if we are to shape a new era in capitalism."
He concludes that reform of competition law that considers its interaction with voluntary agreements as a means of advancing responsible business practice is the gaping hole in the Coalition Agreement corporate responsibility measures – particularly when sometimes more responsible practices demand an increase in the cost of goods or services to the consumer.