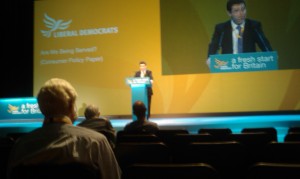 In a speech to Liberal Democrat conference today, Andrew Dakers has urged the party to think afresh on competition law and the role it has to play in corporate responsibility.
He said:
"The paper [Are we being served?] forgets that in reality markets are not just about competition, but also cooperation between businesses. The negative social and environmental externalities that doing business can create will not be resolved by competition alone.
"For the past decade companies that take their responsibilities seriously have run scared of our current competition law framework. In the late 90s this lost both a mechanism for companies that wanted to collaborate on social & environmental issues through voluntary agreements to get these authorised by the OFT, as well as a public interest test. These mechanisms were vital when voluntary agreements involved internalising the external costs of a product and would potentially increase the price to the end consumer.
"The mess of current legislation is well illustrated by the ongoing OFT case regarding supermarkets. Blamed by the public for their low payments to dairy farmers, some supermarkets increased both their payments to farmers and the price to the end consumer. For this the OFT has fined them tens of millions.
"Sure sometimes there is going to be collusive behaviour that drives excessive profiteering and is against the interests of the consumer. This abuse of market power must be cracked down on hard. However there are also great business leaders and companies – even in the finance sector – who would encourage their peers to take more voluntary action on environmental, social and corporate governance issues if they had the tools in competition law. This is particularly necessary when government is one step behind public opinion and scientific evidence – or when government would be over-reaching itself by producing yet more legislation and enforcement bureaucracy. Or when achieving the vast changes in business practices required needs sector ownership of the problem…
"Taking this balanced view, that doesn't tarnish all business with the same brush, is so necessary if we are to shape a new era in capitalism.
"All of these issues could and should be addressed by this working group. As a party we must produce policy that recognises we're all in it together: employer, owner, employee and consumer."